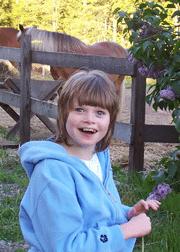 Olivia has been a rider with SunnyBrook Meadows for just over a year. When we drive over Route 15, Olivia knows exactly where she is and recognizes the driveway to SunnyBrook Meadows! Her bouncing in the car and clapping hands tells us that she is thrilled to be at the horse barn again!
Olivia is learning patience when she is required to wait for her turn to ride the horse. She also did not like wearing the helmet, but over time has learned to tolerate the helmet and has learned to stay on the horse. Her riding time has improved from 10 minutes to 30 minutes. The therapeutic riding has also improved her balance and gait.
Most of all, Olivia loves the social interaction! She is thrilled to see all the volunteers and staff and greets them with an infectious smile! Everyone at SunnyBrook is always kind, patient, and committed to their task of enriching the lives of those with special needs.
We are very grateful that Olivia can participate in an activity that makes her equal to her peers. SunnyBrook Meadows has improved Olivia's life by giving her a sense of accomplishment and an opportunity to enjoy life!
Lee and Dorothy Zimmerman
Olivia's parents
Special Olympics has had a tremendous impact on my life. I have multiple disorders including: Tourette's Syndrome, severe ADHD, obsessive compulsive disorder and learning disabilities. I also have some physical complications such as scoliosis, a small and weak chest and shoulders. In addition, I have had open heart surgery to correct an Atrial Septum Defect. Riding has helped me to better control my tics and focus. It has also given me the added benefit of increasing my upper body and back strength. Were it not for Special Olympics, I never would have ridden. Special Olympics has provided me an avenue of successful therapy in a supportive, caring atmosphere. I have learned very much from the direction of my instructors and judges. I have been able to meet others, make friends, and be accepted as never before. I am more responsible and confident. I cannot convey how special, Special Olympics has been for me. I thank SunnyBrook Meadows for opening my eyes to this wonderful opportunity.
Johanna Schoeneck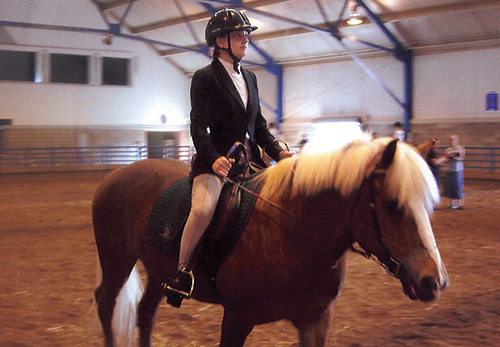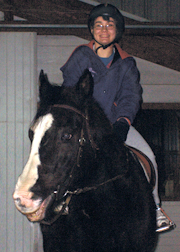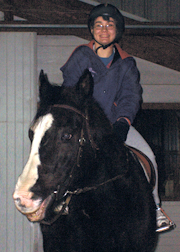 Daniela, age 19, has a severe auditory processing disorder. She is mentally challenged and has a multitude of learning needs. Daniela, through the suggestion of her occupational therapist, started horseback riding seven years ago. It was Daniela's occupational therapist who suggested horseback riding to help Daniela develop cognitive as well as physical and mental skills in certain areas of sequencing, rhythm, motor planning, bilateral coordination, body awareness, trunk control and eye-hand coordination. Horseback riding has helped Daniela's proprioceptive, tactile, olfactory, vestibule, visual input. Through the benefits of therapeutic horseback riding, Daniela now has the ability to integrate auditory input with motor output, ability to follow multi-step directions both at therapy and at home, develop directionality and spatial concepts and allows Daniela the exploration of leisure skills. Daniela as a result of her participation in the program has gained a multitude of self-confidence and self-esteem. Daniela continues to thrive with the program and has progressed to the point that she can now help groom, saddle, and is now able to follow four step directions.
Parents of Daniela Brandt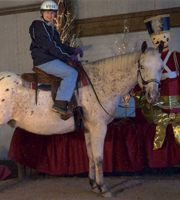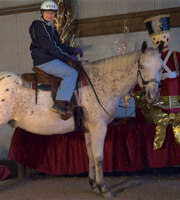 As long as I can remember, Joann has loved horses. She would look at horse pictures for hours, watch horse movies, and play with her toy horses. When we heard about therapeutic horseback riding four years ago, we decided to check it out. Joann loved being around BIG horses but was slightly nervous about their height. She has worked with therapeutic riding instructor, Amanda Budman for the past four years. Amanda has taught Joann all the basics: how to mount and dismount the horse, how to hold the reins, and how to maneuver the horse using the reins. During her lesson, Joann works on following directions and staying focused. Joann also enjoys chatting with Amanda and her side-walkers about what is going on in her life. I know she enjoys this interaction as much as riding the horse. She also has an opportunity to interact with her peers, offering her the added benefit of working on her social interaction skills. As a parent, I love therapeutic horseback riding because Joann has one on one attention, she gets to practice following directions while having fun and being around horses.
Parents of Joann Stopper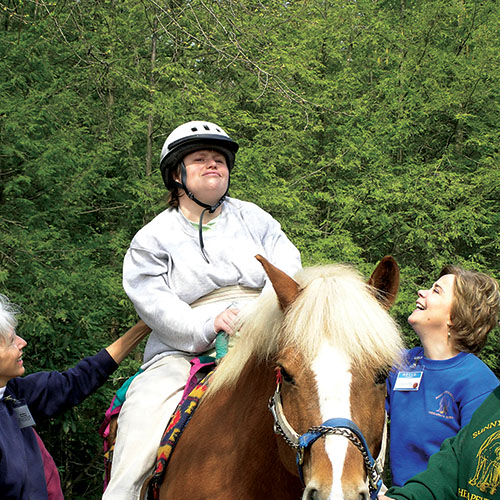 My years riding at SunnyBrook Meadows has been a fun and healthy journey for me. I've met so many new people and made new friends. The best part though is the benefits I get from riding. Cerebral palsy has left my legs stiff and hard to move, but with horseback riding, my mobility is much improved. My core strength is stronger so my balance is much improved. I'm wheelchair bound so being able to look down to people instead of up is fun for me… Many thanks to the folks at SunnyBrook Meadows.
Faith Taylor
Kayla has some difficulty staying on task in various aspects of her life. Since she's been taking riding lessons, I've noticed her improved attention span at home. In addition, she rarely brings home incomplete class work. Horseback riding has been a source of motivation for Kayla and it has certainly helped Kayla become more organized. For example, she's been able to listen to the horseback riding patterns and retain that information long enough to implement them correctly. That really has amazed me and I thank you for that!
Parents of Kayla